We use cookies to deliver a reliable and personalised ArtQuidexperience. By browsing ArtQuid, you agree to our
use of cookies
.
Journal Revolution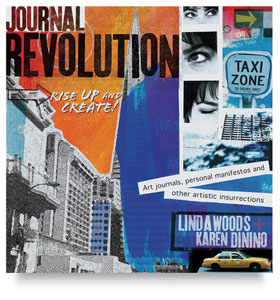 Price
: from $ 16.55 USD
Buy Art
When you think of journaling, do you think only of the written word? This book challenges that thinking, just as a real revolution challenges convention.

As a follow-up to their best-selling debut, Visual Chronicles, authors Linda Woods and Karen Dinino liberate the artist within by inspiring you to rant, whisper, beg, stomp, or sing your truths.

300 color illustrations show how common household items can be employed to reflect the full range of emotions to create your own brand of edgy, urban journaled art.

Primers on paints, inks, pens, pencils, stamps, brushes, and papers help you simply and inexpensively explore your untapped creative possibilities with a vengeance.

Easy projects include Fauxlaroids, a fresh, yet retro way to use photos in your journaling.

For example, sand a photo with a nail file until its weathered image perfectly matches your hazy memory.

Another project is Me: Undecorated.

Artists are encouraged to revel in their uncensored feelings.

Then there's the project, The Best Goes On, which is your life soundtrack, your personal CD covers.

If your journal pages don't seem to reflect "the real you" because they're too "pretty," this book gives you the freedom to use crooked lines, dripping paint, and torn images to depict the ever-spinning world that represents reality for most human beings.

With honesty, humor, enthusiasm, and encouragement, Woods and Dinino help you capture your truth and beauty, as well as the frenzy that's singing (or screaming) inside! Author — Linda Woods, Karen Dinino.

Paperback.

128 pages.

9" × 9".
New :
You want to benefit from the best deals?
Subscribe to the Artists Materials Newsletter!
---