We use cookies to deliver a reliable and personalised ArtQuidexperience. By browsing ArtQuid, you agree to our
use of cookies
.
Best Abiquiu Studio Easels - Best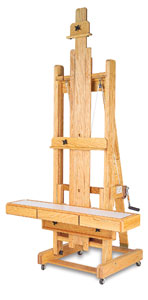 Price
: from $ 1.16 USD
Buy Art
Best
Abiquiu is a heavy-duty easel for professionals who paint large canvases.

Fully assembled, this easel stands 88" (224 cm) high.

It can be extended to support canvases measuring up to 120" (305 cm) high, and virtually any width.

It's made of solid red oak, and can be adjusted to any tilt or angle.

Abiquiu has a rugged marine winch that lifts up to 300 lbs (136 kg).

The laminated oak uprights measure 2" × 5", sturdy enough to accommodate any canvas that the powerful winch can raise, and the base is double-laminated for additional support.

The Abiquiu Easel rests on four heavy-duty, front locking casters, so that moving the easel and locking it into place is effortless.The painting tray measures 32" (81 cm) wide, and features atool shelf that holds brushes, paints, mediums, and other supplies.

Some assembly required.

Abiquiu Deluxe — A magnificent double-mast version of the Abiquiu Easel, designed to accommodate large canvases with even greater stability.Its wide stance and broad foundation make it the easel ofchoice for the serious artist who works on a giant scale.Go Deluxe if your canvases are wide as well as tall! Tab Tray — An add-on for the Abiquiu and Abiquiu Deluxe, a 50" wide bottom painting tray that features three drawers and a tool shelf for holding brushes, paint, solvent, and other supplies.

The Tab Tray moves up and down with the pulley sytem.

When shipped with the easel, it adds an additional 50 lbs.

Two options are available for the tray, Melamine® and removable ceramic tiles.

Note — A Tab Tray can be purchased separately, for those who already own an Abiquiu, but it must be custom fit for the particular model.

To order a Tab Tray for an existing easel, we recommend calling Dick Blick and ordering by phone.
New :
You want to benefit from the best deals?
Subscribe to the Artists Materials Newsletter!
---