We use cookies to deliver a reliable and personalised ArtQuidexperience. By browsing ArtQuid, you agree to our
use of cookies
.
Blue Dog Speaks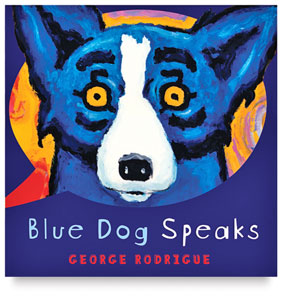 Price
: from $ 16.97 USD
Buy Art
When Cajun artist George Rodrigue began his series of Blue Dog paintings in 1984, he had no idea that they would consume the greater part of his life for more than two decades, and that the mysterious Blue Dog — inspired by his studio dog–turned-model, Tiffany, and the Cajun loup-garou folk legend — would become a wildly popular international icon as well.

Blue Dog Speaks is the first book to prominently emphasize Rodrigue's painting titles, one of the most important elements in the creation of a Blue Dog painting, alongside the works.

Rodrigue uses Blue Dog painting titles to provide insight — whether humorous or nostalgic or sad — into the human condition.

In an introduction, Rodrigue reveals how an idea that originated in childhood tales has now grown far beyond; his Blue Dogs have moved beyond Louisiana into formerly uncharted territory and now express larger concepts about contemporary life.

His newer titles — such as Right Place Wrong Time and Tiffany Remembers the '70s — along with other, more abstract ones such as All by Myself with My Happiness capture this shift in style and content.

But most of all, there are the paintings themselves, magnificently displayed, their titles inviting us to ask "What is this dog all about?" and "What is the artist trying to say?" Even though the definitive answers remain a mystery, the titles provide a clue.

George Rodrigue is an internationally acclaimed Cajun artist whose works are in major museums and collections across the country.

Rodrigue's paintings have been featured in several books/monographs, and the subject of numerous traveling exhibitions and advertising campaigns, including Absolut Vodka.

Through his Blue Dog Relief: George Rodrigue Art Campaign for Recovery, he has been a tireless fundraiser and campaigner for Hurricane Katrina relief.

Author — George Rodrigue.

Hardcover.

512 pages.

7" × 7".
New :
You want to benefit from the best deals?
Subscribe to the Artists Materials Newsletter!
---