We use cookies to deliver a reliable and personalised ArtQuidexperience. By browsing ArtQuid, you agree to our
use of cookies
.
Canson Papershow For Teachers - Canson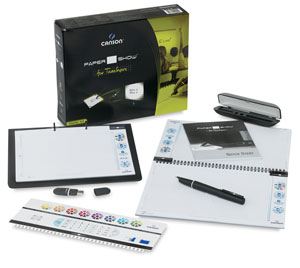 Price
: from $ 249.99 USD
Buy Art
Canson
Building on Canson's successful Papershow technology, Papershow for Teachers takes interactive presentation tool and digital whiteboard technology to a new level by adding functions and features designed especially for K–12 teachers.

Now teachers can write from anywhere in the classroom, display lessons instantly on a computer screen or board, add color to their lessons, hide and reveal information, and focus attention on specific points.

By tapping buttons on the printed toolbar, teachers can change colors, change shapes, or even pull up graphics or draw shapes on the screen.

An extended toolbar allows them to pull up a virtual calculator on the screen, and even draw an angle and then ask the software to calculate exactly what it is.

Lessons can be prepared in advance, saved, and displayed at a later time.

What's more, at the end of the lesson, class notes can be saved on the included USB key, reopened at a later date, amended as needed, and immediately shared with the class.

Here's how Papershow for Teachers works: The Bluetooth digital pen — A micro-camera beneath the nib captures the pen's position on the paper 75 times a second, and transmits the information continuously to the key over a Bluetooth wireless link.

The interactive paper — A grid of points that are almost invisible to the naked eye is printed on each page.

This grid is used to detect the pen's movement over the paper.

The software — The Papershow program instantaneously reproduces the pen's movements onto the screen.

The Bluetooth link is opened and closed by removing and replacing the pen's cap.

The Bluetooth USB key — This 512 MB USB key stores the Papershow software and receives the coordinates of the pen's position, which it then displays on the screen.

Lessons and class notes can also be saved on the key.

The Papershow for Teachers Starter Kit includes the following materials: 1 Papershow Bluetooth digital pen and case 1 Bluetooth 512 MB USB key containing the Papershow application 1 128-page Squared Notebook 30 Sheets of A4 Papershow printer paper 1 Interactive calculator with two measurement tools 1 Ring binder 1 AAA battery 3 Ink refills 8 Rings to personalize the USB key and pen Papershow for Teachers operates on the following platforms: Mac OS x v10.4 Tiger, Leopard, or Snow Leopard or Windows XP (SP2, 3), Windows Vista, or Windows 7 ( 32-bit and 64-bit ).
New :
You want to benefit from the best deals?
Subscribe to the Artists Materials Newsletter!
---