Daige Maxit Adhesive System - Daige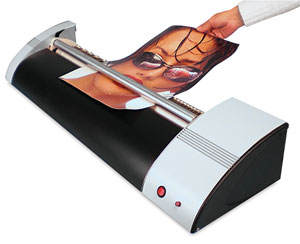 Price
: from $ 889 USD
Buy Art
Daige
The Maxit Adhesive System combines motorized roller coaters with a unique pressure-sensitive adhesive for mounting wide-format inkjet prints, presentations, photos, book covers, signage, trading cards, labels and more to just about any surface, including plastic, gatorfoam, sintra, wood and metal.

The Maxit eliminates forever the mess of spray adhesives, plus it costs much less to use than adhesive sheets and rolls.

A very thin coating of the Maxit MX II adhesive provides a strong, secure bond with absolutely no bumps.

Using the Maxit is simple.

After the machine warms up (approximately 55 minutes), simply push the motor switch and feed your print into the rollers.

In just seconds, your print is coated with a micro-thin adhesive.

Then simply position your print on the substrate and roll it down to eliminate any air and create a permanent bond.

At the end of the day, turn off the power on the Maxit and the adhesive solidifies, so there is absolutely no maintenance or cleanup.

The Maxit is extremely clean to work with since the adhesive will not transfer to your fingers no matter how often you touch it.

The adhesive also never dries out or loses its tack, so you can mount your work at any time.

Adding more adhesive to the Maxit is achieved by adding a dissolvable cello bag of adhesive pellets to the coater tray.

The Maxit MX II adhesive is non-toxic and acid-free.
New :
You want to benefit from the best deals?
Subscribe to the Artists Materials Newsletter!
---