We use cookies to deliver a reliable and personalised ArtQuidexperience. By browsing ArtQuid, you agree to our
use of cookies
.
Jullian Vintage Easel - Jullian Paris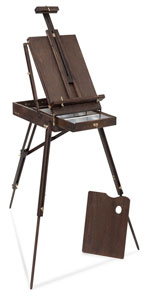 Price
: from $ 249.99 USD
Buy Art
Jullian Paris
Jullian Paris is proud to offer discriminating artists the Jullian Vintage Easel — beautifully crafted of lacquered oak wood with a Burnt Oak finish and brass fittings.

Indoors, it is a splendid piece of furniture that harmonizes elegantly with many interiors.

Outdoors, it offers painters the same time-tested features as Jullian's Original French Easel.

The Jullian Vintage Easel combines a sketchbox, easel, and canvas carrier in one, saving time and money for the location or demonstration painter.

Adjust the legs and the tilt to whatever height and angle best suit your medium — forward for pastels, vertical for oils, and flat for watercolors.

The easel stands up to 70-1/2" high , and holds artwork up to 31-1/2" tall .

The Jullian Vintage Easel comes with a weather-resistant, metal-lined box that holds paints, brushes, and accessories.

Remove the upper drawer, and there's even more storage space underneath.

The two front legs fold away compactly to the side, while the adjustable rear leg disappears neatly into the underside of the easel's sketchbox.

Folded, the easel measures only 16-5/8" wide × 7" deep × 22" high .

When not it use, the easel serves as a canvas carrier.

A finished painting can be positioned on the outside of the folded easel and carried until completely dry.

The Jullian Vintage Easel comes pre-assembled and includes a coordinating wood palette , a leather carrying handle, a leather shoulder strap, and a carry bag.
New :
You want to benefit from the best deals?
Subscribe to the Artists Materials Newsletter!
---