Kate Palmer Taboret - Best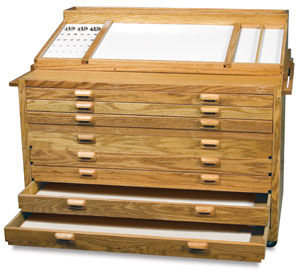 Price
: from $ 3.6 USD
Buy Art
Best
Generous storage, expansive workspace and innovation in design are the hallmarks of the Kate Palmer Taboret.

Unlike anything you've ever seen in a Taboret, it's beautifully designed and executed in solid oak.

The top work area features a 27" × 20" melamine surface with a Plexiglass insert for easy clean up.

A large stainless steel canister, two small stainless steel cups, and 18 holes for brushes also are included.

The three top drawers have inner dimensions of 45"W × 17½"D × 2"H.

The five bottom drawers have inner dimensions of 46"W × 26"D × 2½"H and wil hold full sheets of watercolor paper.

They are accessible from either side of the unit.

The base is 50"W × 28"D × 42½"H.

The front working height is 35".

The top storage area is 48½"W × 6½"D.

Generous storage areas in the back (behind the top three shelves) are 47"W × 7½"D × 6¼"H and 47"W × 8"D × 7¼"H.

Some assemby is required.

Note — This item is shipped in a crate measuring 60" × 44" × 53" that weighs 576 lb.

Inside delivery will incur special extra charges due to weight and because uncrating may be required.

We will contact you regarding exact shipping arrangements.
New :
You want to benefit from the best deals?
Subscribe to the Artists Materials Newsletter!
---