We use cookies to deliver a reliable and personalised ArtQuidexperience. By browsing ArtQuid, you agree to our
use of cookies
.
Kopykake K-35 Single-Slide Projector - Kopykake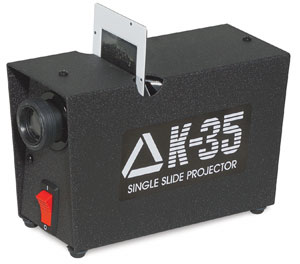 Price
: from $ 185.39 USD
Buy Art
Kopykake
Small, functional and affordable, this stand mounted projector lets you project one 35 mm slide (transparency) at a time onto almost any working surface including canvas, illustration board, and tiles.

It is ideal for those who prefer to use spherical reference material.

Using the attached stand, the projector will enlarge images up to 16" × 24" (41 cm × 61 cm) onto a table top.

The removable head measures 6" × 4" × 2.5" (15 cm × 10 cm × 6 cm) and swivels 360°.

Use it to trace murals, mosaics, and other large works measuring up to 6' × 8' (183 cm × 244 cm) onto a wall surface.

The high-contrast, bright image is produced by a combination of a 1.5" short-focus, high quality projection lens, a 2-element aspheric condensing lens system, and a 1000 hour, quartz-halogen, 12V, 20W lamp.

Table mounting post, stand and clamp are included for easy set up, but the projector can be used separately.

Optional 35 cm × 50 cm baseboard.

Slide clips secure copy.

Additional features include steel construction, a convection cooling fan, and a five year guarantee.

110/120V, 60 Hz.

Net weight 4 lbs 14 oz.

Shipping weight 5 lbs 10 oz.
New :
You want to benefit from the best deals?
Subscribe to the Artists Materials Newsletter!
---