We use cookies to deliver a reliable and personalised ArtQuidexperience. By browsing ArtQuid, you agree to our
use of cookies
.
Modern Art Deluxe Memory Game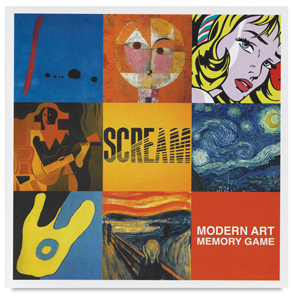 Price
: from $ 11.53 USD
Buy Art
Learning art history and testing your memory is fun with this delightful and educational game for all ages featuring some of art history's most iconic images.

In the Modern Art Deluxe Memory Game, players take turns flipping cards and finding matched images (there are 36 pairs of images in all).

Keep score and award one point each for knowing the name of the artwork, the name of the artist, and the year the piece was completed.

When all the cards are matched, the player with the most points wins! Featured artists include Joseph Albers, Jean Arp, Giacomo Balla, Umberto Boccioni, Georges Braque, Carlo Carra, Marc Chagall, Christo, Stuart Davis, Giorgio de Chirico, Robert Delaunay, Marcel Duchamp, Dan Flavin, Helen Frankenthaler, Juan Gris, Eva Hesse, Wassily Kandinsky, Paul Klee, Gustav Klimt, Franz Kline, Yayoi Kusama, Fernand Léger, Roy Lichtenstein, Kasimir Malevich, Franz Marc, Henri Matisse, Joan Miró, Claude Monet, Edvard Munch, Louise Nevelson, Pablo Picasso, Bridget Riley, Ed Ruscha, Kurt Schwitters, Theo Van Doesburg, Vincent Van Gogh, and Andy Warhol.

The Modern Art Deluxe Memory Game includes a booklet with all of the art historical information needed to play.

It is elegantly packaged in a kraft paper box that measures 7½" (19 cm) square.
New :
You want to benefit from the best deals?
Subscribe to the Artists Materials Newsletter!
---