We use cookies to deliver a reliable and personalised ArtQuidexperience. By browsing ArtQuid, you agree to our
use of cookies
.
Photography: The Whole Story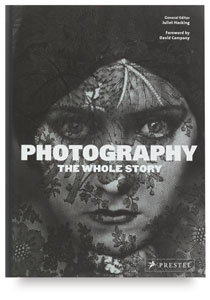 Price
: from $ 23.07 USD
Buy Art
All throughout history, people have tried to capture images they have considered significant and worthy of sharing.

Over many centuries it was the task of artists to set down subjects using charcoal, paint, and other media, but in 1839 a new and in many ways more immediate medium appeared — photography.

Originally messy and time consuming, the photograph rapidly evolved to become a means of capturing reality in the blink of an eye.

But in a world where billions of snapshots are taken every year, why are some individual photographers and their works considered so significant? Photography: The Whole Story is a celebration of the most beautiful, meaningful, and inspiring photographs that have arisen from this very modern medium — whose name, which literally means "writing with light," hints at its potential to capture the significant moments in our lives.

This ambitious and vibrant publication leads you through the world's most iconic photographs — those innovative images that have become key reference points in our conception of ourselves and the world around us.

Organized chronologically, the book spans nearly two centuries as it illustrates photography's fascinating, and ongoing, evolution and cultural impact.

The book begins with a succinct overview of photography, placing it in the context of the social and cultural developments that have taken place globally since its arrival.

It continues with illustrated, in-depth essays that cover every photographic genre, from the portraits and tableaux of the past to the digitally manipulated montages, split-second sports images, and conceptual photographs of today.

The ideas and works of key photographers are assessed to reveal what motivated them, who influenced whom, and what each was striving to achieve.

Detailed timelines provide both historical and cultural context.

Supporting each essay are close analyses of key works that exemplify the characteristics of each period or movement.

Illustrated focal points call attention to aspects such as the use of color and visual metaphor, quirks of composition, and technical innovation, enabling you to grasp each work's full meaning.

The tiny but telling details of social portraits, the stark, graphic quality of urban landscapes, the undertones of nude studies, and the humor, anger, or pathos of conceptual works are all revealed.

Written by an international team of experts, and containing more than 1,000 illustrations, this definitive history is a must-have volume for every photography lover's library.

Editor — Juliet Hacking.

Hardcover.

576 pages.

7" × 9½" (18 cm × 24 cm).
New :
You want to benefit from the best deals?
Subscribe to the Artists Materials Newsletter!
---